Details

Category: Media Reports
Published on Monday, 30 June 2008 08:58
By Azad Majumder
Reuters
DHAKA (Reuters Life!)- Practicing what he preaches has won Sikh priest Bhai Piara Singh many admirers in Dhaka, the capital of overwhelming Muslim Bangladesh.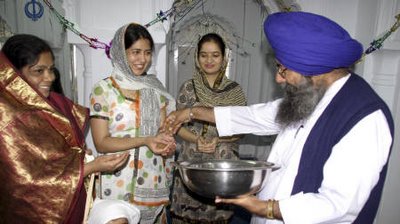 Singh came to Bangladesh eight years ago from India to head the main Gurdwara, or Sikh temple, in Dhaka, where his doctrine of peace and generosity to all mankind has made its mark on Bengalis of all faiths -- and helped keep his community safe.
"People respect us," Singh told Reuters. "Often I get a chance to speak at inter-religion discussions."
"Never we had a communal problem nor did I hear of any. People of all religions visit us. Muslims often donate (money) to help us run the Gurdwara," he added.
Sectarian violence has often erupted in impoverished Bangladesh, which is also wracked by political unrest. Sunni Muslim militants have attacked other Muslim sects and bombed churches within the past few years.
But the Gurdwara, which is inside Dhaka University's campus, has so far been spared. The century-old building is protected by the authorities but also fondly preserved by students, who often engage in gunbattles on campus.
"All religions preach non-violence, no hatred and love. The Sikhs are a true reflection of that and so they are loved by all," said Atiqur Rahman, Muslim who attended Dhaka University.
---
The following addition is from the blog of Manvir Singh Khalsa, UK
The Gurdwara Sahib mentioned in the news is GURDWARA NANAK SHAHI, which is situated in the capital city's university campus.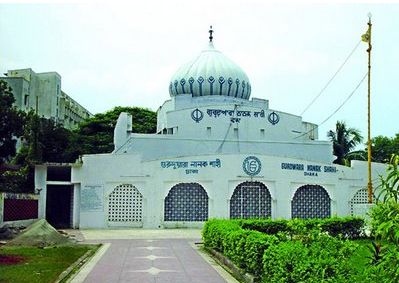 The Gurdwara marks Guru Nanak Sahib jee and Guru's visit, later visted by Guru Tegh Bahdar Sahib jee. The Gurdwara was founded by a missionary sent to Bangladesh by Baba Gurditta, son of Guru Har Gobind 6th Guru within 17th century and was completed in 1830. Old relics-an old handwritten volume of guru granth sahib, and Guru Teg Bahadar Sahib jee's sandals are preserved here. There are five historical Gurdwara Sahibs in Bangladesh linked to the history of the First and Ninth Guru Sahibs.
From 1915 to 1947, Sri Chandrajyoti served as the sevadaar of Gurdwara Nanakshahi. After 1947 the Gurdwara was neglected and almost abandoned. After Bangladesh's independence it was repaired and revived. With the help of Sikh soldiers the members of the deputation led by Captain Bhaag Singh of Calcutta recovered possession of the Gurdwara, cleaned it and held a congregation in it on 2nd January, 1972. Sayyad Nazar-ul-Islam, then acting President of Bangla Desh attended the congregation and gave assurance about the safety and reconstruction of this and the other Gurdwaras. Now, there is a management board that includes local as well as foreign members, to run the affairs of the Gurdwara.

See sewa video of Gurdwara Nanakshahi