Details

Category: New Sewa Projects
Published on Monday, 23 June 2008 11:50
In the News....
Read
newspaper
report on the Sampardai's success in kaar sewa projects in Bangladesh.
Guru Nanak and Guru Tegh Bahadur visited Dhaka and Chittagong
The great Guru Nanak (1469-1539), the founder of Sikh religion, visited Dhaka (capital of Bangladesh) and stayed here for sometime centuries ago. Gurdwara Nanakshashi, situated in Neelkhet Road stands in memory of the Great Guru.
The footware (kharawa)

of Sri Guru Nanak Dev ji

at Gurdwara Nanakshashi (Dhaka).

 

Sri Guru Tegh Bahadur ji's

hand-painted portrait at

Gurdwara Nanakshashi (Dhaka).
Gurdwara Nanakshashi is a Sikh rendezvous in the heart of Dhaka University at Neelkhet Road. In 1469, Guru Nanak Dev ji descended in a world plunged in medieval ignorance, feudal tyranny and oppression and religious and cultrual strife.

In early 16th centruy, Guru Nanak visited Dhaka via Mithila, Kant nagar (Dinajpur), Kamroop and Sylhet and he left in for the Deccan via Chittagong, Calcutta and Jagannath Puri (Orrissa). Having witnessed the righteousness of the devout people that used to come in large numbers from far-flung areas to visit the ancient Dhakeshwari Temple, Guru Nanak made a visit to this location.
| | | |
| --- | --- | --- |
| Baba Sukha Singh ji (Sarhali) doing kirtan at Gurdwara Nanakshashi (Dhaka). |   | Baba Sukha Singh ji (Sarhali) presenting a golden Chaur Sahib for Gurdwara Nanakshashi (Dhaka) to Deputy High Commissioner. |


Guru Nanak came to Dhaka by boat, which anchored at Shivpur village in the north of Dhaka. Later it took the name of Rayer Bazar, Dhanmandi and turned Dhanmandi Colony after 1961. He succeeded in winning the innocent hearts of the poor working class of people living in the area. The news that Nanak possessed limitless powers of a real spiritual guru, spread speedily among those people and moved them to come up with due respect for him.

There were ferry ghats, harbours, some godowns and a small market at Shivpur, but acute scarcity of pure drinking water was dragging people towards the grip of diseases and death. Nanak got a well dug at Zafrabad of the village and consecrated it to the welfare of the local people. Later a king came and had a large tank excavated near the well for tourists to bathe there. Led to the belief that diseased man recovered soon after using the water of the well, people used to flock around it with pots to collect holy water from there. According to Dr. Trilochan Singh, an author, the erstwhile Pakistan Government requisitioned the entire area including the well and the tank kept under Sikh supervision till 1959. The government hacked the area into several small plots and leased them out to people for housing. It is learnt that Guru Nanak's well now lies at House No. 278, Road No. 26, Dhanmandi residential area. The allotee of this plot of land got it for 8,000 taka, constructed a building house there in 1968 and then rented it to the UN employees.


| | | |
| --- | --- | --- |
| Baba Sukha Singh ji standing with local sangat at the entrance of Gurdwara Maiman Singh. |   | Ardas being done in Gurdwara Maiman Singh. |
After a certain period of time had elapsed, Baba Gurditta instructed Almast, an Udasi, to trace out Guru Nanak's stay in Dhaka. Almast did it and at last located a place under Sujatpur mouza, where Dhaka University now lies and then established a 'Manji' which was later renamed Gurdwara Nanakshashi. Subsequently, the area assumed its importance and became known as Ramna.

Gurdwara Nanakshashi was originally built by Bhai Natha and modelled after the design of the Yadgar of Nawab Shaesta Khan's grand daughter Iran Dhukhat alias Paree Bibi, who died a premature death in 1684. The works of the building were completed in 1830 and it commemorates the stay of Guru Nanak who held here religious discourses, preaching of gospel of one God and universal brotherhood in 1504. After a period of neglect, some essential reforms were made in 1971-72 after the liberation of Bangladesh.


| | | |
| --- | --- | --- |
| Baba Sukha Singh ji (Sarhali) and sangat in the Darbar Sahib of Gurdwara Pahartali Sahib (Chittagong). |   | Baba Sukha Singh ji with a local Bangladeshi sangat / family at Gurdwara Sikh Temple (Chittagong). |


In 1988-89 the building was renovated and the outside verandah was constructed for its protection and preservation with contributions received from Guru Nanak's followers in Bangladesh and other countries. The work was carried out under the able guidance of Sardar Herbeant Singh IAS (Retd.) head of the International Jute Organisation. He left for New Delhi in 1991.

In January 1972, a Sikh delegation headed by General Jagjit Singh Arora called on the then Prime Minister of Bangladesh, Sheikh Mujibur Rehman who later paid a visit to the Gurdwara.


| | | |
| --- | --- | --- |
| Baba Sukha Singh ji and sangat in Gurdwara Sangat Tola (Dhaka) |   | A collapsed section of the Gurdwara Sangat Tola (Dhaka) building that urgently needs repairs. |


Before the Gurdwara was built, Bhai Natha took the initiative for digging a well of which reforms were made by Mahant Prem Dass in 1833. During the Pakistan rule, it was ravaged and filled with earth and squalor. Intruders broke into the temple and looted away its antiquidated furniture, musical instruments, banister, precious stones and other valuable articles.

During the Baishakhi and Guru Nanak birth anniversary, Sikh Jathas from India visited Guru Nanakshashi and stayed here. Even the foreign Sikh nationals who come to Dhaka on different occasions are allowed to live here and pay their obeisance.


| | | |
| --- | --- | --- |
| Baba Sukha Singh ji and sangat in the Darbar Sahib of Gurdwara Sangat Tola (Dhaka). |   | Gurdwara Sangat Tola (Dhaka). |


After the liberation of Bangladesh the management of Gurdwara Nanakshsahi and other Sikh shrines in Bangladesh, was handed over to Bangladesh Gurdwara Management Board who conducted its duties from Calcutta. In 1972 Board appointed Bhai Kartar Singh head priest of Gurdwara Nanakshashi to perform the daily religious functions. Bhai Kartar Singh, before this was priest at Takhat Patna Sahib. At present, Bhai Piara Singh and other priests and sewadars sent by Sant Baba Sukha Singh, chief of Kar Sewa Sampardai Sarhali (Amritsar) are performing the religious duties and reciting Gurbani Kirtan at Gurdwara Nanakshashi, Gurdwara Sangat Tola Bangla Bazar Dhaka, Gurdwara Chowk Bazar, Chittagong and Gurdwara Pahartally Chittagong.

Besides the Gurdwara at Dhaka University, Guru Tegh Bahadur, the 9th Gur of the Sikhs established Gurdwara Sangat Tola at 14 Sreesh Das Lane of Bangla Bazar. Guru Tegh Bahadur came to Dhaka from Assam and stayed here for two years (1666-68).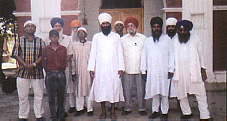 Baba Sukha Singh ji and sangat at the main
entrance to Gurdwara Pahartali Sahib (Chittagong).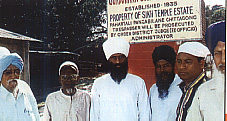 Another photo taken at the main entrance
to Gurdwara Pahartali Sahib (Chittagong).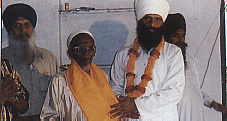 Baba Sukha Singh ji honouring Mr Ali, who has done
sewa at the Gurdwara for the past 60 years.

Another Gurdwara which is now at English Road was built by Mohan Singh, a poor young Sikh during the early years of his life. Mohan Singh was appointed Dewan in Chittagong by the then Nawab. There was a temple called Sangat Shutrashashi at Urdu Bazar, but it was later deserted by the Shutra Sadhus. In the course of time it collapsed.

On way to Calcutta, Guru Nanak halted at Chittagong and founded a 'Manji' at Chowk Bazar. He entrusted its maintenance to Bhai Jhandia, an employee of King Sudhar Sen, who was then reigning Chittagong. King Sen felt annoyed at this and summoned Guru Nanak to appear before his court. But his sone Prince Indra Sen, a converted Sikh, influenced him, to change his mind. He presented valuable gifts to Guru Nanak. Later, the Manji was turned into Gurdwara. Another Gurdwara is located at Pahartali Chittagong and it was built for the Sikh Railway Employees. Besides there are a few temples in Chittagong Hill Tracks.


| | | |
| --- | --- | --- |
| A handwritten copy of Sri Guru Granth Sahib ji at Gurdwara Nanakshashi (Dhaka). |   | Another photo of the handwritten copy of Sri Guru Granth Sahib ji at Gurdwara Nanakshashi (Dhaka). |


The Gurdwara at Mymen Singh was built in 1945 inside the Gangana Park, beside a Kalimandir. Heera Singh, a Bangali Sikh was appointed to assume the charg of supervisor. All Sikhs who lived there, left during the Partition in 1947.

Guru Nanak Dev himself founded a Gurdwara at Sylhet. It is learnt from the writings of Abul Fazal, the eminent courtier of Emperor Akbar, that during the visit to Sylhet from Kamroop, Guru Nanak's follower Bhai Mardana was changed into a lamb by the spell of Noor Shah, a spiritual fakir of the time. Guru Nanak dispelled it and helped him assume his original shape.

Although there is no Bangladeshi Sikh in the country, there are number of Sikhs in Dhaka, Chittagong and Sylhet etc., who are either businessmen or deputies to various Indian and other foreign companies and establishments who have industrial and business contracts in Bangladesh. Every Friday a congregation is held at the Gurdwara Nanakshashi where not only Sikh families but hundreds of local people congregate. They enter the Gurdwara with heads wrapped with cloth and bow down with hands folded to Guru Granth Sahib, kept in adorned alter, with due respect, fervour and serenity and then kneel down with forehead resting before the alter. Gurbani Kirtan is perfomred by Sikh Ragis and Bangladeshi singers - Hindus and Muslims. Silence and solemnity writ large on the minds of the devotees inside the Gurdwara. After the Ardas (prayer for the well being of the mankind) Guru Ka Langar (community kitchen) is served to all irrespectve of caste, creed and religion. They all sit in Pangat (beside each other) to have Langar (food).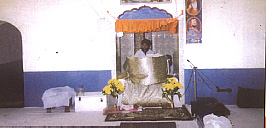 Prakash of Sri Guru Granth Sahib ji
at Gurdwara Sikh Temple (Chittagong).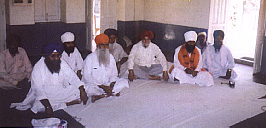 Baba Sukha Singh ji (Sarhali) with the sangat in the
darbar of Gurdwara Sikh Temple (Chittagong).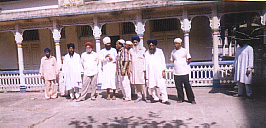 Baba Sukha Singh ji and sangat outside
Gurdwara Sikh Temple (Chittagong).

Although the management of the Sikh Gurdwaras in Bangladesh rests with the Bangladesh Gurdwara Management Board, there is a local committee headed by Shri Suresh Kumar, a firm devotee of Guru Nanak and believer of 'service of humanity is essence of wisdom', which looks after the day to day seva and service in the Gurdwaras.

Buidling of Gurdwara Sangat Tola, Bangla Bazar, where the 9th Guru, Guru Tegh Bahadur Ji stayed for two years, during his Dhaka sojourn, is very my dilapidated. Bangladesh Gurdwara Management Board with the active cooperation of the local committee have decided to construct a new building in place of the same. It also decided to grant the request of Sant Baba Sukha Singh, chief of Kar Sewa Sampardai Sarhali (Amritsar) to render his services for the construction of the new building Kar Sewa. Sant Baba Sukha Singh was then invited to visit Bangladesh and inspect the site. In August 2005 Baba Sukha Singh along with his jatha visited Dhaka where he, after visiting the Gurdwaras, had a discussion with Shri Suresh Kumar, and the local Sangat regarding the construction of the new building of Gurdwara Sangat Tola. It was decided to evacuate the families from the Gurdwaa premises, who are illegally staying there, before the work for the construction starts. Baba Sukha Singh Ji then asked Shri Suresh Kumar to talk to the concerned families so that they are evacuated at the earliest and the Kar Sewa is started. Baba Sukha Singh along with his jatha again visited Bangladesh in March 2006 to see the work going on there. In the meantime, Granthis and Sevadars sent by Baba Sukha Singh Ji are performing the day to day religious functions at Gurdwara Nanakshashi, Gurdwara Sangat Tola, Gurdwara Chowk Bazar, Chittagong and Gurdwara Pahar Tali, Chittagong. It is expected that Kar Sewa of Gurdwara Sangat Tola Bangla Bazar Dhaka will start soon.
This information is also published on SikhiWiki.